Resources & Referrals Directory
Student Counselling, Health & Well-being has compiled a list of service providers in the community to assist you in finding appropriate care. This is not a complete list and we have not vetted or approved any of the providers on the list, nor can we guarantee that the information is accurate or up to date.
Student Counselling, Health & Well-being/York University do not benefit from any referrals made and is not responsible for the content of or service provided by any of these service providers. Should you be interested in obtaining more information or a specific referral, please meet with a counsellor for a walk-in session.
In addition to looking for services according to the Table of Contents, try searching (Ctrl+F) for keywords such as "AIDS", "Chinese", "sliding scale", or "women".
The directory is available in .pdf format.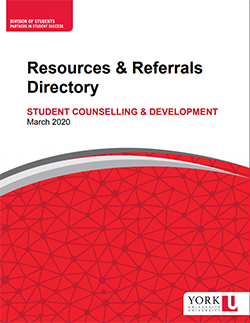 Self-Help
General Self-Help
Canadian Mental Health Association: Getting Help
Government of Canada: Mental Health Support: Get Help
Ontario.ca: Find mental health and addiction services in your community
211 Ontario: Call 211 to find mental health supports across Ontario
BounceBack Coaching and Online Videos

Online Directories
Canadian Mental Health Association: Are you in Crisis?
Canadian Mental Health Association: Find Help
Canadian Mental Health Association: Crisis Resources
Canadian Mental Health Association: Quick Guide- Mental Health Resources, Serving Toronto (PDF)
Government of Canada: Contact First Nations and Inuit Health
Government of Canada: Get help with problematic substance abuse
Mood Disorders Association of Ontario
Toronto Housing: Crisis Support
York Federation of Students (YFS) Wellness Centre
211 Ontario: Mental Health/ Addiction Services