SCHW Skills Workshop
The purpose of the SCHW Skills Workshop is to equip participants with the skills they need to better manage stressors and to reach their full academic potential. The workshop is open to all current York University students.
Topics typically covered include:
What is Stress
Symptoms of Stress
What burnout can look like at school
Combatting unhelpful thinking behaviours
Developing positive coping strategies
Days & Times
Mondays 10:30 a.m. to 12 p.m. (weekly starting Oct. 19)
Thursdays 1 p.m. to 2:30 p.m. (weekly starting Oct. 22)

To join the next workshop or for more information please email counselling@glendon.yorku.ca.
Workshop Slides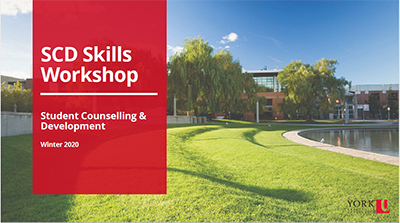 The SCHW Skills Workshop slides are provided as general guides for your reference only. They are not intended to provide medical advice. Should you have any questions relating to your own personal health or well-being, please meet with a counsellor for a walk-in session.
Additional Resources
SCHW Skills Workshop Toolkit
SCHW Skills Workshop Worksheet
Common Stress Reactions to Trauma
Unhealthy Thinking Styles